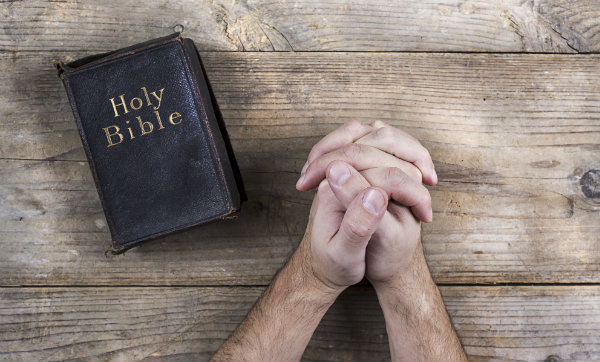 Matthew 7:7 "Ask, and it will be given to you; seek, and you will find; knock, and it will be opened to you."
Introduction:
When my dad was alive, I would find myself asking him questions. To my recollection, I never recall my dad growing impatient with my queries. As a matter of fact, my dad's love language was that of a "time-spent" person. So-called "time-spent" persons enjoy spending time with the people they love. My dad's favorite expression of building relationships with the people he loved was to spend quality time. I knew from an early age that I had his favor. No matter the line of inquiry, questions served as points of entry into fostering closeness. My dad's wisdom, and my need for it, often prompted the questions.
The Uniqueness of Biblical Prayer
The uniqueness of Christianity's approach to prayer is that it centers around the concept of a Father to a child, and a child to a Father relationship.1
God has designed prayer so that we can draw to Him, and he to us. Often-times, questions are entry points for the Christ-follower to explore a deeper walk or experience with God in their daily life. Asking questions such as "why pray", for example, prompts us to see that God has included prayer in His overall Providential dealings with people and our world. For those in a redemptive relationship with God through Jesus Christ by faith, this Divine design of Biblical prayer portrays God's people as children to a Father. Frances de Sales (1567-1622) writes in his book - "Introduction to the devout life":
"Prayer opens the understanding to the brightness of divine life, and the will to the warmth of heavenly hope."
Summarizing Today's Post: Why Raise Questions In Prayer?
How we pray is the most immediate evidence to us about our level of awareness of God. Additionally, how we view prayer and how seriously we take prayer says quite a bit of how we view God in relationship to ourselves. There are those who can fake their way through prayer by making an outward show to people around them or fooling themselves. Yet, when we get real with God, urgency characterizes our prayers. We cry out. We call out. We raise questions. People in the Bible raised questions when they talked to God. Among the questions we can ask God about prayer, the most fundamental one is: "why pray, if God knows?" The answer to this question is two fold: first, we're commanded to pray (1 Thessalonians 5:17) and second, God invites us to have a face to face conversation with Him in prayer. As Corrie Ten Boom once noted:
"The Devil smiles when we make plans. He laughs when we get too busy. But he trembles when we pray-especially when we pray together."
1. The Appropriateness Of Asking.
Matthew 7:7 was quoted at the beginning of today's post to set the tone for the main topic: "The Big Questions of Prayer." Sometimes people wonder if it is appropriate to ask God questions in prayer. The fear is if we ask God questions, we can run the risk of questioning God's character. There can be of course those questions we ask out of anger, fear or ignorance. However, most questions asked of God in prayer are attempts to clarify what it is He is doing. Luke's version of Jesus' words in Matthew grants an expansive commentary on Matthew 7:7. We find the text in
Luke 5:9-13
"So I say to you, ask, and it will be given to you; seek, and you will find; knock, and it will be opened to you. 10 For everyone who asks, receives; and he who seeks, finds; and to him who knocks, it will be opened. 11 Now suppose one of you fathers is asked by his son for a fish; he will not give him a snake instead of a fish, will he? 12 Or if he is asked for an egg, he will not give him a scorpion, will he? 13 If you then, being evil, know how to give good gifts to your children, how much more will your heavenly Father give the Holy Spirit to those who ask Him?"
Remarkably, the "father/son" motif we alluded to earlier is expressed by Jesus in His teaching on prayer. God invites His children to ask questions on account of closer fellowship with Him! Let us be reminded of James' words, the half-brother of Jesus according to the flesh in James 4:2
"You lust and do not have; so you commit murder. You are envious and cannot obtain; so you fight and quarrel. You do not have because you do not ask."
So to not ask God prevents us from receiving answers. More importantly, we miss out on a growing experience with God through a developing prayer-life. Those who regularly pray learn that knowing God is more vital than getting answers. This point, which is so fundamental, is missed so often by all of us who name Jesus as Savior and Lord by faith. So asking God the big questions in prayer is appropriate. So then, what exactly are examples of "big questions" in prayer? For what purposes could God use them in developing Christians as his people?
2. Asking Big Questions, & How God Develops Us
In the 16th century reformer Martin Luther's book: "A Simple Way to Pray", we find the following description of the place of prayer in our lives:
"We know that our defense lies in prayer alone. We are too weak to resist the devil and his vassals. Let us hold fast to the weapons of the Christian, they enable us to combat the devil."
Below are examples of some of the "big-questions" of prayer we may often find ourselves asking. To make this exercise simple, I've laid out the questions per the six interrogatives found in the English language: "who?", "what?", "when?", "where?", "why? and "how?" along with the suggested purpose God may use in the eliciting forth of questions to Him.
1. Who? --> Knowing God.
It is interesting when God turns the tables and asks us the questions in prayer. We find in prayer that we sometimes don't know God as well as we thought. The "who" sort of questions focus our attention on getting to know God better. In Matthew 16:15 we find Jesus raising the following question: "He said to them, 'But who do you say that I am?"'
2. What? --> Conviction.
Abram's relationship with God took a quantum leap in Genesis 15. God shows Abram the stars in the nigh sky to convey the magnitude of His covenant with him. Abram's level of faith goes from operating in probabilities to certainties. Quite literally, the word "believed" in Hebrew refers to having a firm conviction about something. Our English word "Amen" is a transliteration of the Hebrew root "'Amen'" (
אֱמִ֖ן).
Whenever someone says "amen" in a church service or at the end of prayer, we're saying: "so be it". Jesus often prefaced statements in the Four Gospels with the double affirmation, "truly, truly", of which the Greek text uses the words taken over from the Hebrew: "amen, amen" (ἀμὴν ἀμὴν) or "so be it, so be it". Thus, we see the following assessment of Abram's faith in Genesis 15:6 "
Then he believed (i.e. "He amened") in the Lord; and He reckoned it to him as righteousness." It would be this very text that the Apostle Paul would quote in his exposition on the doctrine of justification by faith in Romans 4.
3. When?

-->

Timing.
Whenever we find ourselves asking God the "when" questions, we're concerned about matters of His will and timing. In two places we find good examples of the disciples and Jesus discussing issues of timing. First, we read in Matthew 24:3 As He was sitting on the Mount of Olives, the disciples came to Him privately, saying, "Tell us, when will these things happen, and what will be the sign of Your coming, and of the end of the age?" Then we read in Acts 1:6 "So when they had come together, they were asking Him, saying, "Lord, is it at this time You are restoring the kingdom to Israel?"
4. Where? --> Provision.
Do we often wonder where finances will come from when paying bills or needing resources to do ministry? God's people are challenged to trust Him for financial, spiritual and emotional provisions. Three passages give us an example of the big "where" type of questions. Psalm 121:1-2 I will lift up my eyes to the mountains; From where shall my help come? 2 My help comes from the Lord, Who made heaven and earth. Also Philippians 4:6-7 "Be anxious for nothing, but in everything by prayer and supplication with thanksgiving, make your requests known unto God. And the peace of God, which surpasses all understanding, will guard your heart and mind in Christ Jesus." One more, Philippians 4:19 "And my God will supply all your needs according to His riches in glory in Christ Jesus."
5. Why? --> Calling.
Have you and I ever asked God the big "why" sort of questions. Gideon asks such questions in the book of Judges. Often we find ourselves second-guessing God's calling on our lives. Note what Gideon says as recorded in Judges 6:13 Then Gideon said to him, "O my lord, if the Lord is with us, why then has all this happened to us? And where are all His miracles which our fathers told us about, saying, 'Did not the Lord bring us up from Egypt?' But now the Lord has abandoned us and given us into the hand of Midian."
6. How? -->Desperation.
The "how" questions emerge when we're desperate. Often we find ourselves caught between "a-rock-and-a-hard-place". David expresses such desperation in the Psalms. First, we read in Psalm 13:1-2 How long, O Lord? Will You forget me forever? How long will You hide Your face from me? 2 How long shall I take counsel in my soul, Having sorrow in my heart all the day?
How long will my enemy be exalted over me? The secondly,
Psalm 42:5
"Why are you in despair, O my soul? And why have you become disturbed within me? Hope in God, for I shall again praise Him For the help of His presence."
These six questions, or ones like them, are ways in which we find ourselves seeking God. Seeking God leads to growth in God (compare 4:6). So then, we find God includes inquiry as part of the design of prayer for our spiritual development. As we close out this post today, asking the big questions of prayer can only occur in a beneficial way once we're reminded of the assurances of prayer.
3. Assurances of prayer.
Matthew 7:7 not only prompts us to "ask", "seek" and "knock" with respect to our approach to God in prayer, but it also is a springboard into the assurances we find in seeking the Lord. I want to close out this post with two wonderful passages that speak to this matter of the assurance we find with God in prayer. The first text is found in Hebrews 4:16
"Therefore let us draw near with confidence to the throne of grace, so that we may receive mercy and find grace to help in time of need."
The second passage of scripture speaks of how we can know God hears the prayer of the Christ-follower -
1 John 5:14-15 "This is the confidence which we have before Him, that, if we ask anything according to His will, He hears us. 15 And if we know that He hears us in whatever we ask, we know that we have the requests which we have asked from Him."
May we not have timidity when it comes to seeking God through Christ by His Spirit as we draw more closely to Him by way of the big questions of prayer.
Endnote:
1. The spiritual landscape of our planet represents variations of people attempting to connect with their idea of deity. Mankind has all sorts of questions. Unfortunately, there is no other conception of a Personal God like there is in the Biblical revelation of Him. All 4,000 or so religions in our world, to one degree or another, have some form of expression of prayer, albeit man-made versions. Seeking some sort of response from some sort of deity evidences mankind's bearing of God's image (see Genesis 1:26; Romans 1:18-20). Mankind will seek anything else except the God of scripture. Only when the Spirit of God has so prompted sinners by conviction, leading to the new-birth by faith, can people be called true "seekers". Unfortunately, due to the fall of Adam and Eve in the Garden of Eden, mankind's spiritual sensibilities have resulted in warped views of God and self (Romans 5:12-21; Romans 1:21-25). All other religions outside of Biblical Christianity attempt to gain favor with God by way of rituals or rite involving some sort of man-made effort in prayer.
Unlike other religions, the spiritual relationship entered upon by faith in Jesus Christ has God's favor (i.e. grace) front-loaded into the spiritual relationship. In contrast to man-made religion, which has man reaching up to a deity of their own making, Christianity alone has God reaching down to the sinner through Jesus Christ. Biblical prayer is just as unique. Biblical prayer features God, in the Person of the Holy Spirit, initiating prayer through the Christian to then in turn express themselves in inquiry and praise to the Father through the Son (see Romans 8:26-27; Ephesians 2:18).