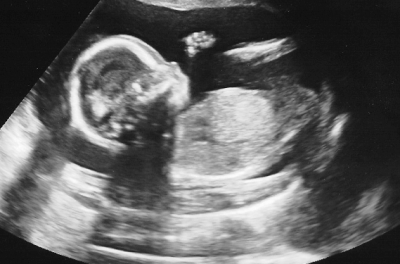 Psalm 139:13-16 "For You formed my inward parts;
You wove me in my mother's womb.
14 I will give thanks to You, for I am fearfully and wonderfully made;
Wonderful are Your works,
And my soul knows it very well.
15 My frame was not hidden from You,
When I was made in secret,
And skillfully wrought in the depths of the earth;
16 Your eyes have seen my unformed substance;
And in Your book were all written t
he days that were ordained for me,
When as yet there was not one of them."
Jeremiah 1:4-5 "Now the word of the Lord came to me saying,
5 "Before I formed you in the womb I knew you,
And before you were born I consecrated you;
I have appointed you a prophet to the nations."
Galatians 1:15-16b "
But when God, who had set me apart even from my mother's womb and called me through His grace, was pleased 16 to reveal His Son in me so that I might preach Him among the Gentiles."
Introduction: Ultrasounds
We have four wonderful children. I can recall when I first saw each one while the doctors and nurses performed an ultra sound of my wife's womb. It is truly a remarkable moment when your child's image appears on that little tiny screen. In the latter weeks of the pregnancy, she and I could discern features that resembled each side of our respective families. As I would get those first images in my eye and mind, I can honestly tell you that love swelled up in my heart.
That little one inside my wife's womb was ours. Even though I hadn't the chance yet to hold that little one, feel its fingers squeeze my own nor hear its cooing; nevertheless, I loved him or her.
By the day of birth, the love was already there. It is fair to say that my experience of pre-loving and seeing my children's images on the ultrasound was a faint analogy of what the Bible calls "God's foreknowledge".
In the above opening passages, we find reference to God having "foreknown" David, Jeremiah and the Apostle Paul. We see those first glimpses of Biblical "ultrasounds", as each man describes how God foreknew each of them before any days of life had begun.
Certainly God had chosen to use them as His vessels of communication. God had already known about David, Jeremiah and Paul before they were born, before they were conceived - before time began. Today's post will aim to connect the Biblical teaching on God's "foreknowledge" to His particular love for particular people (like David, Jeremiah, Paul and other believers).
Biblical Ultrasound #1: David
When we think of David for example, did God decide to set his affection upon David before David had even thought about loving God? Both the Old and New Testaments affirm that David was sought by God for the purpose that He might raise Him up to be a man after His own heart (see 1 Samuel 13:14; Acts 7:46; 13:22).
God already had David in the sonar screen of His omniscience. Sometimes reference is made to what is called God's "supercomprehension" - which means that God knows each of the creatures in ways that not even that creature could possibly know. God knew what each of His free-will creatures would do in particular places and times.
As we already saw in Psalm 139, God had already marked out David's days. God foreknew David, which is to say, God fore-loved David. And yet, we also know too that David was a man that loved God and was clearly acquainted with what it meant to love God from an early age. David loved God because God had first loved him. God's foreknowledge of David did not preclude David's own free-moral agency from genuinely pursuing God. God's grace and Divine calling on David's life gave the context and the means for David's human responsibility to respond and freely follow.
God's reasons for loving David are never stated beyond the fact that He loved and favored David. We know from reading David's life in 1 & 2 Samuel that some horrendous sins would be committed along the way. Yet, God ever loved him. Followers of Jesus Christ can also say the same thing about themselves. God's love for any of His people is not based upon what that person would or would not do, but rather what God wanted to do in that person's life to redeem them from darkness to life (see Romans 8:28-31).
God's covenant with David, which would bring about the humanity of the Lord Jesus Christ, was based upon God's covenant love for him (2 Samuel 7:13-16; Romans 1:3). God's fore-loving of David did not preclude nor negate any free-decisions David would make. As noted already, despite making some very terrible choices, David was still used by God and God's ultimate purposes for Him were still brought to pass. These realities can be also said of every person who has believed and repented of their sins throughout redemptive history (see 1 John 4:19).
Biblical Ultrasound #2: Jeremiah
What of Jeremiah? What was God's thoughts toward him? The rest of Jeremiah 1:6-8 unfolds God's thoughts toward him:
"Then I said, "Alas, Lord God!
Behold, I do not know how to speak,
Because I am a youth.
7 But the Lord said to me,
"Do not say, 'I am a youth,'
Because everywhere I send you, you shall go,
And all that I command you, you shall speak.
8 "Do not be afraid of them,
For I am with you to deliver you," declares the Lord."
Or later on another book authored by Jeremiah, namely Lamentations 3:21-25
"This I recall to my mind,
Therefore I have hope.
22 The Lord's lovingkindnesses indeed never cease,
For His compassions never fail.
23 They are new every morning;
Great is Your faithfulness.
24 "The Lord is my portion," says my soul,
"Therefore I have hope in Him."
25 The Lord is good to those who wait for Him,
To the person who seeks Him."
God never left Jeremiah's side. Jeremiah was chosen and foreknown by God before Jeremiah had been born, before time itself had began (see Romans 8:29-30; Ephesians 1:4-5). God's love toward Jeremiah was pre-eternal. Such love called and drew Jeremiah out of the mass of humanity. He gave Jeremiah a call, a purpose and a promise to ever be with him. Such comforting thoughts uphold salvation in both the Old and New Testaments.
Biblical Ultrasound #3: Saul/Paul
We then consider the Apostle Paul. Paul, introduced in the New Testament as Saul of Tarsus, was freely and knowingly persecuting Christians (see Acts 9; 22;24). There was nothing in Saul's (i.e Paul's) life that made him commendable or worthy of God's choice to save him and to call him as the Apostle to the Gentiles (Galatians 1:13-14; Philippians 3:4-6). God's choice to love and show mercy to Paul was for the sake of His Son and loving character.
Certainly Saul/Paul had done nothing to merit such love. He persecuted Christians and breathed out threats against Christ's people. God's grace broke in and Jesus made Himself known to Saul/Paul.
In so far as God had foreknown and chosen Paul, it is nonetheless still true that Saul/Paul was responsive to Christ's call to him. In Galatians 2:20, we find Paul's will and God's will intertwined with one another in the living out of the Christian life: "I have been crucified with Christ; and it is no longer I who live, but Christ lives in me; and the life which I now live in the flesh I live by faith in the Son of God, who loved me and gave Himself up for me."
God's foreknowledge and purposes of grace include the free-moral agency of the persons upon whom such purposes come. Time and time again, Paul could only give credit to God as to why he responded to the Gospel, whilst blaming those who reject Christ as being responsible for their own condemnation (see Acts 13:46).
The Baptist Faith and Message 2000 reminds us of God's purposes of grace in things like election and foreknowledge as being totally compatible with human responsibility:
"Election is the gracious purpose of God, according to which He regenerates, justifies, sanctifies, and glorifies sinners. It is consistent with the free agency of man, and comprehends all the means in connection with the end. It is the glorious display of God's sovereign goodness, and is infinitely wise, holy, and unchangeable. It excludes boasting and promotes humility."
Closing thoughts
Today we considered three examples of God's people whom were foreknown or fore-loved by God. Such a Divine initiative in vocation and salvation is God's eternal love directed towards His people before they ever existed or even before time began. Such pre-eternal love is person-specific, and includes the free-moral decisions of that person. God not only knows the ends of all things, but included means (such as human responsibility) in His decision to bring about our world populated by human free-moral agents. Why is it that any follower of Jesus Christ loves God? because God first loved them (Romans 8:29-31; 1 John 4:19). The great 19th century Baptist preacher C.H Spurgeon once noted:
"If there are some whom God will save, then I know also who they are, for He tells me they are such as repent of sin, confess it, forsake it and believe in the Lord Jesus Christ unto eternal life."